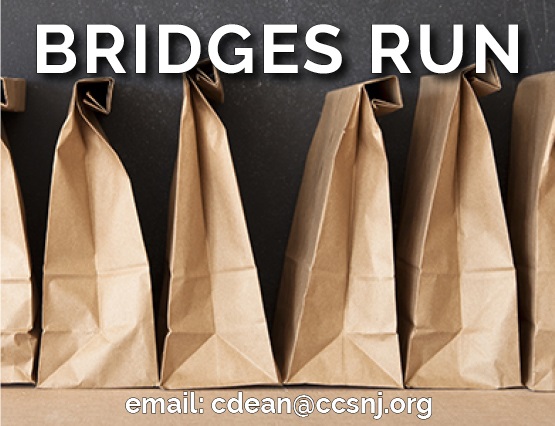 Bridges Run
Our confirmation class (8th graders) will do their confirmation holiday run on December 17th to deliver our gifts & lunches.  We also need 180 
lunches

 from the congregation donated on Dec 16th or 17th (before 5:30pm) in the Refrigerator in Barnwell Hall.
If you can  help out with 
lunches

  email Caroline at cdean@ccsnj.org.
Thank you!
Peace,
Caroline
CONTENTS OF BROWN BAG 

LUNCH
Meat sandwich (see Guidelines for Sandwich Making below)

Fruit: grapes, clementines, bananas, pears & other soft fruit or fruit cups with spoons. Note: apples can be difficult for many with dental issues.

Savory Snack: chips, pretzels

Sweet Snack: cakes, cookies, cereal bars, candy

Drink: juice box or water

Napkin
GUIDELINES FOR 

LUNCH

 MAKING
Wash hands and use surgical gloves.

Use mayonnaise and mustard packets, if possible.

Many of our friends have dental problems; please purchase soft fruit (no apples, please.)

Fruit cups are a good alternative to fresh fruit – please remember spoons.

Wrap sandwiches in zip lock bags.

Keep sandwiches refrigerated until delivery.